Fitted Kitchens in Bury, Greater Manchester
Kitchen Design and Installation Across Bury
Finding the right fitted kitchen for a home in Bury is an important endeavour, but it needn't be a difficult one.
In the 21st Century the kitchen is very much at the heart of everything in the home, the majority of Bury residents will be looking for something fashionable yet warm and inviting.
As well as this, people look for contemporary lines and finishes, cutting edge technology and an overall modern feel. Luckily for you, Ramsbottom Kitchens offers all that and more.
Your Local Service
Ramsbottom Kitchens are more than happy to offer a free-of-charge, personalised design and quote service for every customer in Bury. Don't worry, we do not pressure our potential customers to buy.
We prefer to treat our customers to a great and informative experience, rather than them being on the receiving end of a hard sell. Despite this, we are confident that you will be satisfied with what we have to offer.
If you do decide to buy from us, a deposit of £10 is all we ask for. This small offering will keep you secure and peaceful in the knowledge that your money is safe until the delivery of the kitchen.
High End Kitchen Brands
For more than two decades we have dedicated ourselves to using and providing the absolute highest quality in our brands and products of choice. Two of our largest and most well-respected partners are Sheraton Kitchens and NEFF Appliances who are highly regarded in the areas of kitchen and appliances respectively.
As the kitchen industry is exposed to new, state-of-the-art brands and products, Ramsbottom Kitchens has remained on the cutting edge of kitchen accessories and technology by adding Silestone Worktops and the Quooker boiling water tap to our portfolio. There's no kitchen supplier in Bury with one foot more firmly rooted in the future than Ramsbottom Kitchens.
Professional Installation
The installation services we provide can be adapted to suit your personal needs, be it a large or small undertaking.
We are able to help you build an extension to your home through an external builder, or we can simply deliver all of your required units and all others necessary items.
The majority of our work takes place in the design and installation steps taken to take the place of your pre-existing kitchen.
For this purpose we would remove the current kitchen, undertake all electrical work to the set Part P standard, and further support this work through plastering, tiling and any finishing touches.
Our installation service is the best you'll find across Bury and the surrounding areas.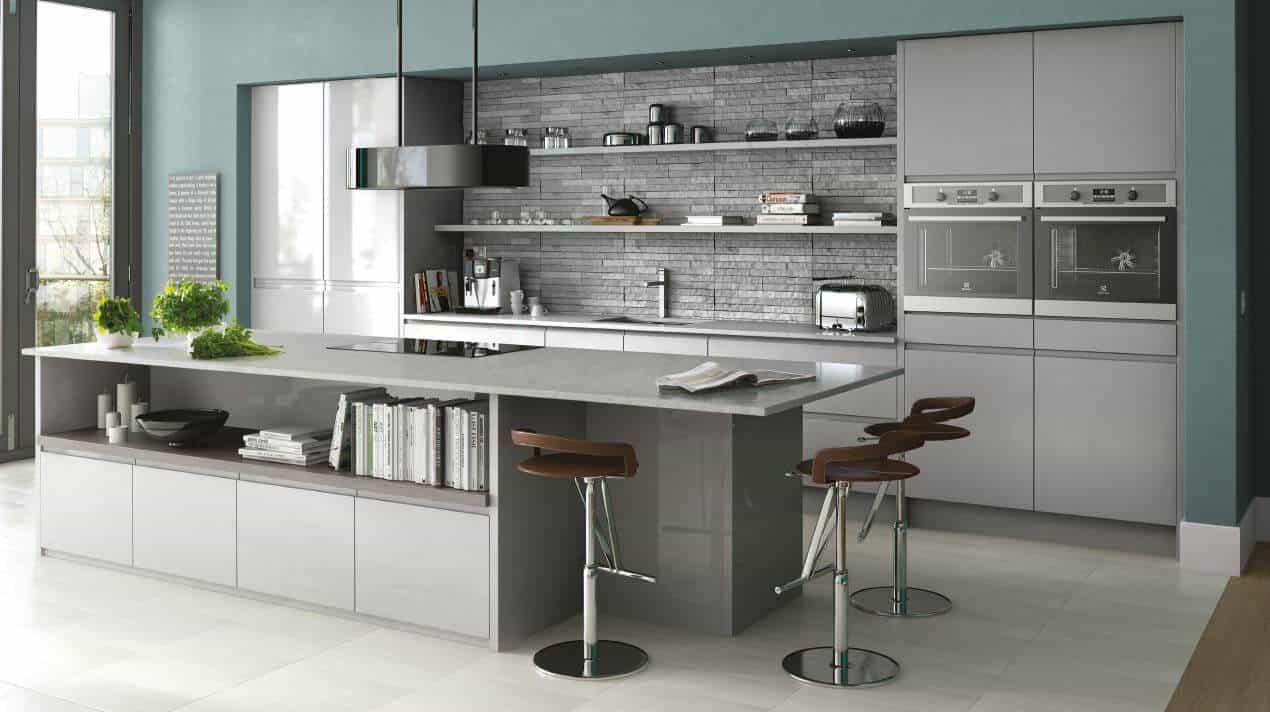 Why Choose Ramsbottom Kitchens?
The benefits to working with Ramsbottom Kitchens as opposed to other high street showrooms in Bury are numerous.
In comparison to those larger outfits, we offer cabinets with each fitted kitchens that are genuinely 'true rigid', made with a mix of both glue and dowel techniques. On the other hand, the other showrooms do not offer the unbeatable quality of true rigid units.
Every one of the cabinets we offer is available in 11 individual colours – whilst many big chains only offer white. To make the deal even sweeter, if you want a painted kitchen all cabinet doors are individually painted for every one of our customers in Bury.
To top it all off, we boast an expert after-sales squad who can manage the installation process for you, whilst keeping you continuously up to date of the working plan. This will help to ensure that you are as satisfied as possible come the project's completion.
Contact Us
For a free kitchen design consultation, call us on 01706 826 557 or contact us online and we'll get back to you as soon as possible.