Fitted Kitchens Prestwich
Our Local Service for Prestwich Kitchens
Deciding on a fitted kitchen for a modern home in Prestwich is meaningful for any home. But it doesn't need to be a struggle to get there.
Due to many modern-day changes, we believe that the Prestwich populace is always on the lookout for fully fitted kitchens with new modern colour schemes, the newest technology and the latest contemporary finish.
Ramsbottom Kitchens can provide all of this and more across the Prestwich area. Get In touch with our showroom today on 01706 826 557.
Personalised Kitchen Designs
We take pride in our personalised kitchen design and quotation offerings, which we give to our Prestwich customers utterly FREE of charge. While we aim to provide our potential customers everything they require, we never push them into a decision.
We prefer to provide an experience that is unforgettable and educational for all the right reasons. We don't do the typical 'hard sell.'  Due to this ethos, we have complete confidence in our services and your ultimate satisfaction.
If you do choose to purchase a kitchen, we ask for just a small deposit of £10. This will give you peace of mind that your order and money are safe until the point of delivery.
Prestigious Kitchen Brands
We have held significant partnerships with well-respected brands and their cutting-edge products for over two decades.
The two largest brands we currently work alongside are Neff Appliances and Sheraton Kitchens. Both are well respected and held in high esteem across the kitchen industry.
As these big names continue to develop the latest exciting products, Ramsbottom Kitchens has remained ahead of the curve with Rangemaster cookers and stunning Sensio Lighting.
We are the only kitchen supplier in the Prestwich with one eye on the future of the kitchen world.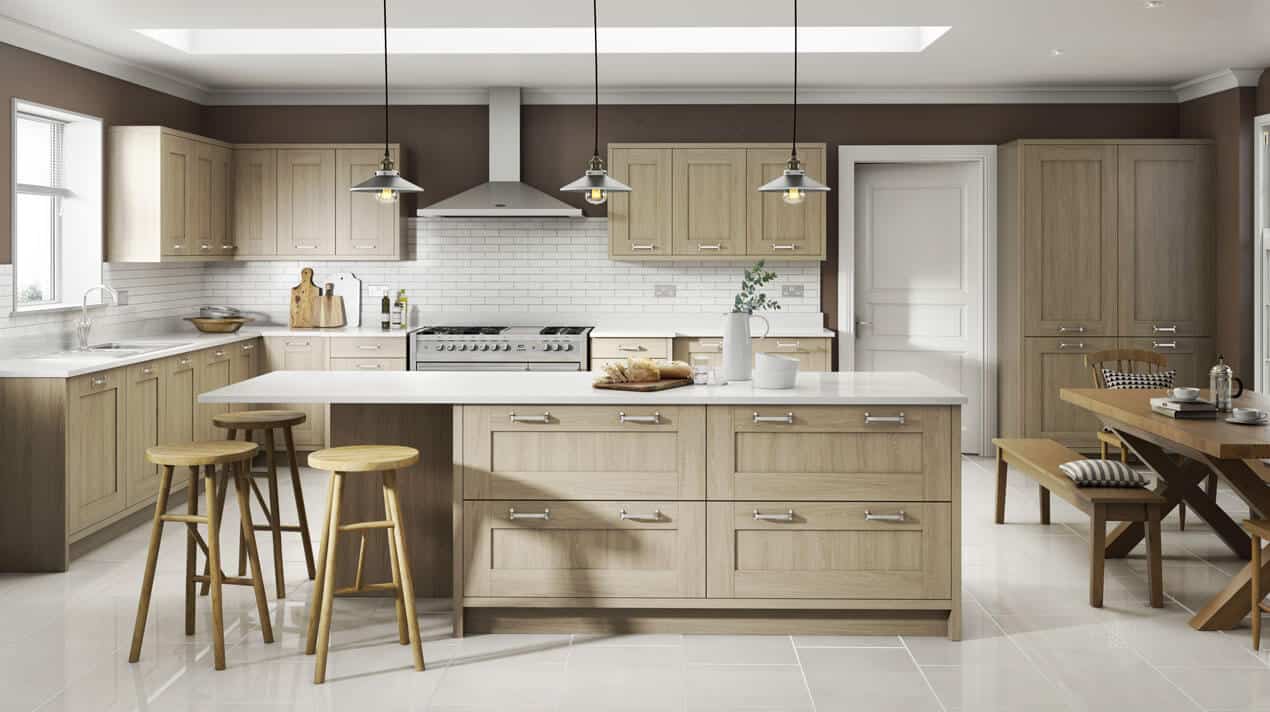 Professional Installation
We are happy to provide an installation service that fits you best, be it as part of a small or more extensive project.
We're always here to help during an extension through an external supplier if needed, or alternatively, we can deliver all the units whenever you desire.
The work we do will cover the kitchen design and fitting stages, at which point we will clear out your previous kitchen. We also deal with any electrical work and further touches such as tiling, plastering and more.
We believe you won't find a more comprehensive kitchen fitting service anywhere in Prestwich.
Why Choose Us
Choosing Ramsbottom kitchens over any alternative kitchen showrooms in Prestwich is hugely beneficial for numerous reasons.
Firstly, in comparison to large chains, we will never compromise on quality. For example, we provide 100% 'true rigid' cabinets, crafted to perfection through a dual technique of glue and dowel.  This is unmatched within Prestwich; no other showrooms can provide you with this superior quality of true rigid options.
Moreover, as well as the above our cabinets are available in a selection of 11 colours, in comparison to other more prominent outlets who can offer only white. Every single cabinet door is individually painted for our customers.
That's not all. We have a unique in-house after-sales team to handle the entire process for your project, keeping an open line of communication between business and customer. This results in a well informed and satisfied customer by the end of the project.
Choose Ramsbottom kitchens today and receive the benefits of a professional kitchen outfit who stand beside you every step of the way.